Farro Risotto Recipe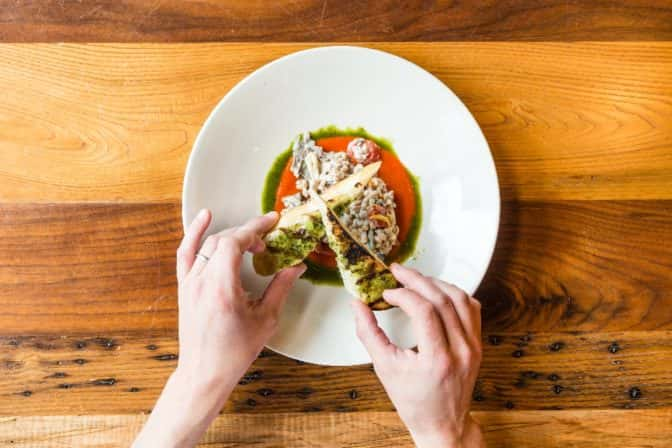 Tomato EssenceIngredients:
3 oz Olive Oil

1 Tbsp Crushed Garlic

1 each Small Yellow Onion (Chopped, large)

1 each #5 Can Tomatoes (Diced in Juice)

1/2 oz Fresh Basil

as needed Modified Food Starch

To taste, Salt and Pepper Mix
Method:-In a steep sided sauce pan-Sweat onions and garlic in olive oil until tender-Add tomatoes in juice and cook for ten minutes-Add fresh basil and then puree and strain (reserve liquid)-Whisk food starch into liquid to thicken until smooth-Add salt and pepper to taste
Note:The pulp from the tomato can be used as a base for soup or any number of applications.
FarroIngredients:
1 # Farro

1 qt. Water or Stock

1 each Small Yellow Onion (Diced)

1 tbsp. Olive Oil
Method:-In a small pot, over medium-high heat, add olive oil and saute onion until translucent.-Add Farro and toast lightly, add water and bring to a boil, reduce heat and simmer covered for 15 min.-Lay out on a sheet pan to cool.
Yields: 12 half cup portions
Farro RisottoIngredients:
6 cups Farro (cooked and cooled)

2 tbsp Olive oil

2 tsp Garlic (minced)

1 tbsp Shallots (minced)

2 tbsp White wine

1 cup Zucchini and/or Yellow Squash (julienne)

1 cup Grape Tomatoes (halved)

¾ cup Portobello Mushrooms (roasted and julienne)

2 cups Heavy Cream

1 cup Parmesan cheese (shredded)

To taste Salt and pepper
Method:- In a large saute pan, over medium-high heat, add olive oil and saute garlic and shallots until translucent- Add zucchini/squash and grape tomatoes, saute lightly and deglaze pan with white wine- Add farro and heavy cream and reduce to thicken- Add mushrooms and parmesan cheese and melt into mixture- Salt and pepper to taste
To plate:Ladle tomato essence into base of bowl to create a frame for the farroSpoon farro into center, garnish with basil chiffonade