Q&A with local vendor, Sunburst Chef & Farmer
Q&A with local vendor, Sunburst Chef & Farmer
Chestnut and Corner Kitchen, partner with many local farmers and vendors. Featuring local products like, jams, honey, mustard, gluten free desserts, meats, microgreens, milk, cream, cheeses, eggs, hot sauces and so much more is incredibly important to us. Why? Because it stimulates our local economy and it tastes GREAT!
This month we are showcasing Sunburst Chef & Farmer. A message from the Owner, Sally Jennings Hudson...
1. Give us the "origin story" for your operation
Sunburst Chef and Farmer was a concept developed in late 2014. We rented a space in Waynesville in which we could set up a "desk top" version of an aquaponics system. It was intended to be used as an instructional tool for visiting school groups, etc. It was also meant to be used as a visual tool for potential grant funders to see our vision in reality. We wound up veering off the path from our original business plan of purchasing a building to that of renting a 15,000 square foot glass greenhouse in Asheville. We took "ownership" in November 2015.
2. What is your list of products (within reason…)
We initially intended to grow microgreens exclusively. However, by realizing we needed to listen to our customers' needs and preferences, we started growing various lettuces. Soon, we added edible flowers, heirloom cherry tomatoes, gherkins, and several full size herbs. That list is constantly morphing.
3. Where is your distribution range? Asheville? Regional?
We personally service Highlands, Cashiers, Asheville, Hendersonville, etc. We ship to Charleston and Greenville, SC, and we have also shipped to New York and Chicago for special events in which our Chef/Customers have been highlighted.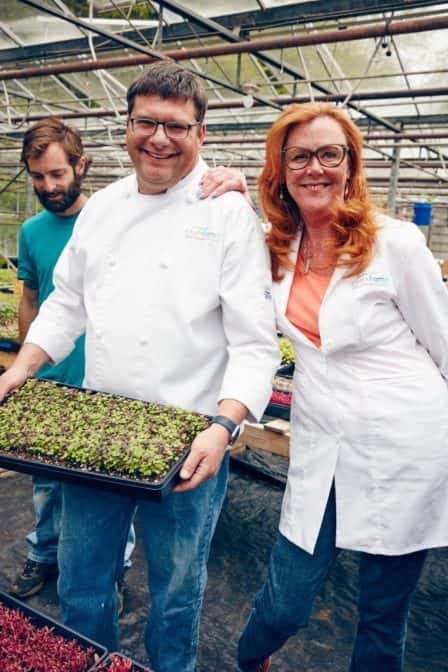 4. Who are the important people in your organization and any anecdotes about them?
Charlie is the President, and I am Vice-President. He handles the financial end and expansion planning. I oversee the microgreen harvesting/shipping/deliveries. In order of length of time with us: Ashley Hayes, formerly of Brasstown Beef, is our Sales Exec. She just makes it happen! Our chefs love her, and she is all about making magic happen for them. She is a gifted bridge builder between chefs and the greenhouse. Lurissia Hendricks, formerly a Senior Vice President at Oldtown Bank, until they merged with Entegra, came to help us get off the ground and that was two years ago. Now, she has assumed the role of COO. She commutes to and from Johnson city every day. Her nickname is Poof. That sums up her capabilities. Erica Blumenfeld is the Greenhouse Manager. She brings so much horticulture knowledge to our table. I have known many capable, organized, efficient people, but Erica is that tenfold. She runs a tight ship, and is respected and liked very much by her staff - rare combo. Jess Stapleton, our daily ray of sunshine, worked for us briefly last summer, before returning to school. Now, she's on that homestretch and finishing up her degree online. So she has come on full time, and her role has evolved. She has been one of the main microgreen harvesters, delivery girl, packer, and "runner". That means she is back and forth to the greenhouse about a dozen times a day, procuring the mature trays ready for harvest. She is comfortable in any area of our business. She is the most upbeat person ever! Charming quality. Sam McBride (Samantha) joined us as a full-time greenhouse tech. She is in the greenhouse seeding, watering, re-configuring lettuce beds, cleaning trays, and cutting edible flowers, always with a quiet determination to complete one job and move on to the next. She is working in temperatures over 100 degrees on occasion, and you will never hear her complain. Megan Grandfield is our part-time person, working mainly on the weekends. She is studying to be a school librarian. Microgreens and edible flowers need watering every day, no matter what. Megan does that for us. And, she does it like it's the most important job in the universe. That's a huge deal! Then, there is Nick Sievers. He is my nephew from Ohio. He came down to visit his Mom for Mothers' Day and never left. Nick is in harness with Jess a good bit of the day harvesting. He also does the long route of deliveries on Tuesdays and Fridays, which means going to Old Edwards Inn in Highlands, not to mention 14 or 15 other restaurants/hotels along the way. Nick has a bright red man bun, and everybody who meets him wants to hang out with him. He is irreverent and hilarious-my favorite combination in a personality! And last, but not least, we have Chad Holmes. He comes to us from Curate/Nightbell, so he has some amazing experience under his belt. He was ready for a change and to leave "night work" behind. He sure misses Katie and Felix though! Chad is training to take over some of Lurissia's load, and I expect to see Chad and Charlie working together on some extraordinary value-added products this winter for a spring launch. I have heard bitters mentioned, vinegar's, sauces… Stay tuned!
5. A post script of significance:
In mentioning staff, I cannot avoid mentioning two others who are no longer actively involved. In the beginning, it was Charlie, me, a girl named August and a guy named Dick. We worked in an 800 sq. ft. space on Montgomery St. in Waynesville, where we had the "desk top" version mentioned above. Our vision was no doubt viewed as somewhat of a pipe dream by many. August had been hired as an assistant for me when I was still actively working for Sunburst Trout. So, I brought her with me on this new "adventure". She seemed very capable in several areas. What we did not know was that she would become the person who "saved" Charlie and me. She quietly and unobtrusively took control of our lives. Pragmatism is her middle name. If we threw out something less than sensible, she refused to discuss it. If we threw out something of substance, she ran with it and test drove it. She kept us focused, and NEVER let us see quitting as an option. What we failed to realize is that during the next 3+ years, she would become more of a surrogate daughter than an employee. So, when she told us in July of 2017 that she was going to have to slip away, we were devastated. But she left us to adopt a family of 3 children, all born to an addicted mother. August and her husband, Matt, had not planned to have children. But then, this came along. We have witnessed one of the most beautiful transformations I have ever known. They were only able to keep 2 of the kids, but they are thriving beyond belief- all because of this woman's belief that we are all capable of absolutely anything. And accept nothing less.And last of all, I mention Dick Sievers. (Yeah, same last name as the guy with the man bun). Dick was in prison for 8 years. Prior to that, he was Dr. Richard Sievers. He was also my brother-in-law at one time. When my sister let me know that he was getting out, she said he's expressed interest in WNC. So, Charlie and I said he could work for us. We figured it might last about 90 days. Well, he stayed 2 ½ years. During his years of practice, he became a brilliant diagnostician. So, he became our "in-house physician". Dick has that same irreverence and dry wit which his son inherited, and he kept us in stitches most of the time. During his time in prison, he overcame addiction, and he transformed lives of many of his fellow inmates by teaching them how to eat properly and created work out regimes for many.
Bottom line: you never know who is going to cross your path. Always be open to the ones who are left of center. They are usually the best.
August and Dick, you are sorely missed.
6. What's next for you and your company?
As far as the future goes for Sunburst Chef and Farmer, we have a plan. However, if it is like most things we have done together, that means it will morph in time. If the right entity came along, with the same ideals as ours and the same insistence on quality, consistency, service, and excellence, we would like to sell it. That entity would necessarily have to accept the staff we have on board, because without each of them doing what they do every day, it would likely not survive.