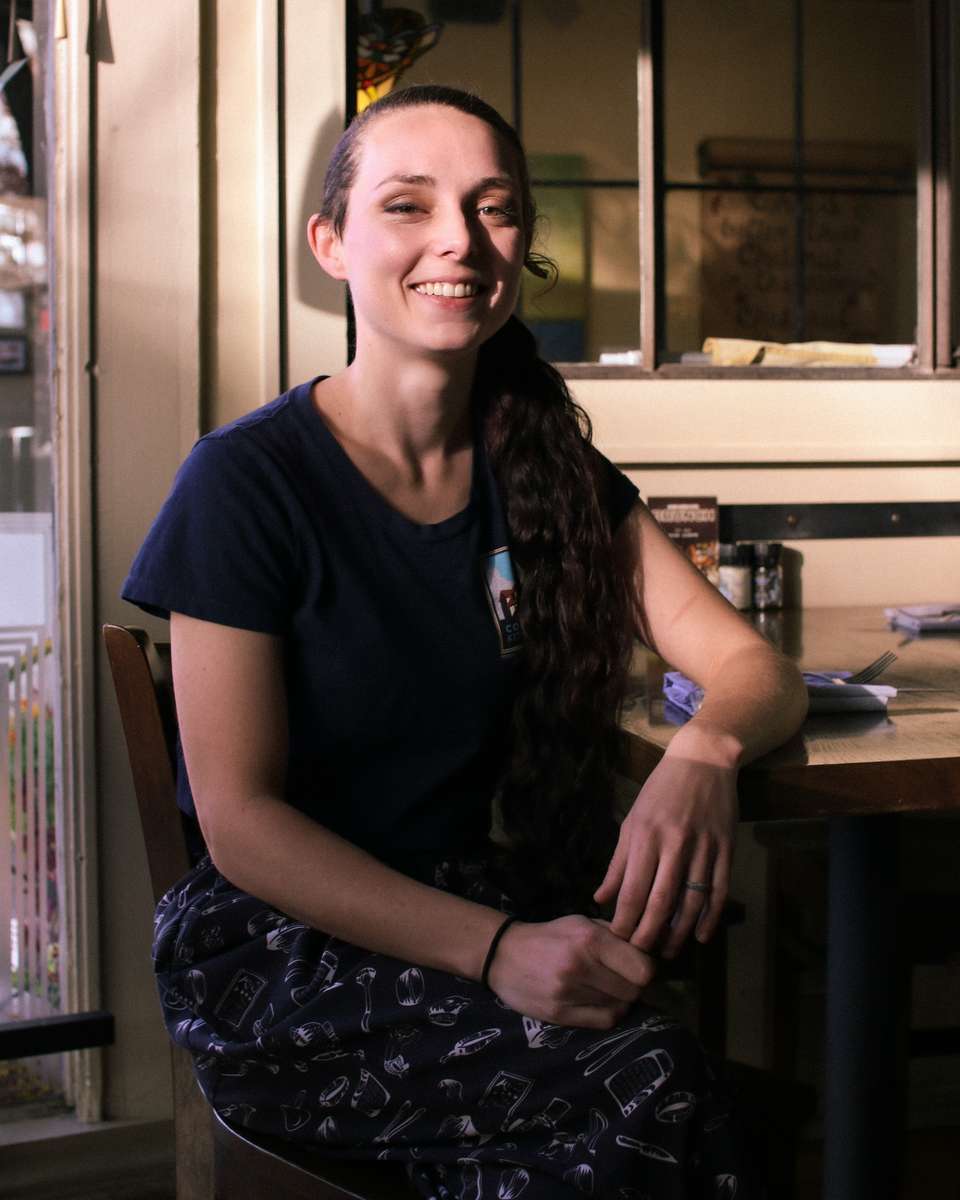 Humans of Chestnut: Olivia Vicars
Humans of Chestnut: Olivia Vicars

Meet Olivia Vicars, Chestnut's Humans of the Month.
November's "Humans of" is Olivia Vicars, the pastry assistant for both Chestnut and Corner Kitchen. Olivia spends her days in our commissary kitchen along side our pastry chef, Amanda, curating the most delicious desserts. You can watch Olivia's full interview here.
How long have you worked for Chestnut and Corner Kitchen and what do you do?
I have worked here for about three months and I am the pastry assistant.
How long have you been baking?
Well, I've been baking since I was like a little girl. My mom and my sisters and I used to do like Christmas baking, like goodie baskets for everybody as Christmas gifts, like our grandparents and stuff. But professionally, like with a title, have been doing it for like four years -ish.
Are you from Asheville?
I am not. I am from the Tri -Cities, so like Johnson City, Kingsport, Bristol area in Tennessee. I grew up in Kingsport. I have lived in Asheville eight or nine years.
What's your favorite thing to do in Asheville?
My favorite thing to do in Asheville. It probably used to be just like going out with my friends and just like bar hopping or walking around or whatever. But now I have kids and I like to go to like the park or we take them to Comic -Con sometimes. What else do we do with them? Oh, we like to walk around River Arts and look at all the art. That's fun with them. I like to do kids stuff now. I don't know. I'm settled down.
How old are your kids?
My kids are three, Ezra. He's my oldest boy. And Owen is my ten month old boy. And they are beautiful, chunky little boys. I love them so much.
Do you have any pets?
I have a dog. His name is Fritz. He's an old man. He sleeps a lot. He's a Border Collie Healer mix. He's super hyper, but also old. So it's like he gets the zoomies for like 30 seconds and then sleeps for three hours.
What's your favorite dessert here?
Oh, we just made some new ones, so it's hard to decide. I think, okay, so we make an apple cheesecake for Corner Kitchen. That's like a cake on the bottom and then a layer of cheesecake. Like, instead of a graham cracker crust, it's like cake. And that is so good.
What brings you the most joy in life?
Probably my kids and my husband, just my family, like being around them, they make me happy.
What's one thing on your bucket list?
On my bucket list, I want to see... all of the like major mountain ranges in the world. I have ticked off the obviously the Appalachians we live here, the Alps, Jesus the Alps! I've ticked off the Appalachians and the Alps and the Rockies and I've seen the Sierra Nevada's but I haven't been on them so I'm not counting that.
Do you bring your kids hiking?
Yeah Ezra really likes it. I haven't taken Owen yet but he's a little and heavy and I don't want to carry him so when he can walk we'll probably take him.
There you have it. Olivia Vicars. One of the glorious humans working in the commissary kitchen to help bring you the tastiest fall filled desserts in Asheville, NC.