Humans of Chestnut: Noah Buchanan (October 2022)
Humans of Chestnut: Noah Buchanan (October 2022)
Commissary sous chef Noah Buchanan has been with Chestnut for years now! Read on to see his tips on charcuterie boards and more!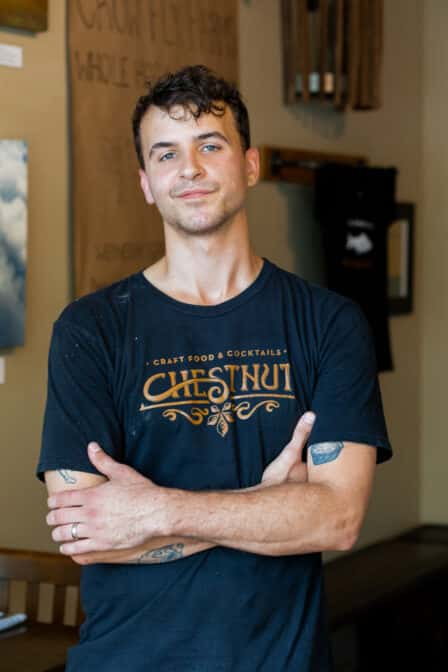 How long have you worked for the restaurant & what is your current position?
I have been with Chestnut for more than 4 years now. I am currently the Commissary Sous Chef for Chestnut and Corner Kitchen.
What is your favorite thing you've had at Chestnut and Corner Kitchen?
There have been so many greats over the years, but my current favorite would have to be the ramp soup made by Chef Brian Crow for the Ramp Dinner. It was so delicious.
What lessons has working in the service industry taught you?
I have worked in the service industry for 14 years now. The best lessons I have learned are to always be ready for a curve ball, and to never stop learning.
What is one of your passions outside the restaurant?
My biggest passion outside of work is taking care of my small family consisting of my wife and animals.
What got you started as a chef?
My grandmothers introduced me to cooking as a young child and it's been my passion my whole life.
You do a lot with charcuterie for both Chestnut and Corner Kitchen! What are some tips for people who want to make the perfect charcuterie board at home?
For the perfect DIY charcuterie board I would recommend the following: A variety of cheeses, add some acidity with pickled fruits or veggies, make a homemade paté or buy some cured meats, and have an accoutrement such as a relish or chutney. Grab a large plate or board and get creative!
Where do you find inspiration for your food?
I often find inspiration from my peers. I also draw inspiration from the history of food. For instance, curing foods has been happening for thousands of years, but I always find something new to bring to my dishes.
If you could travel to any place in the world for a food experience, where would you go and what would you want to try?
If I could, I would travel to Japan for a food adventure. I find a lot of the food unique and I would want to take in the techniques and experience. I would eat everything I could!