Humans Of Chestnut: Chef de cuisine Matthew Dorough
Humans Of Chestnut: Chef de cuisine Matthew Dorough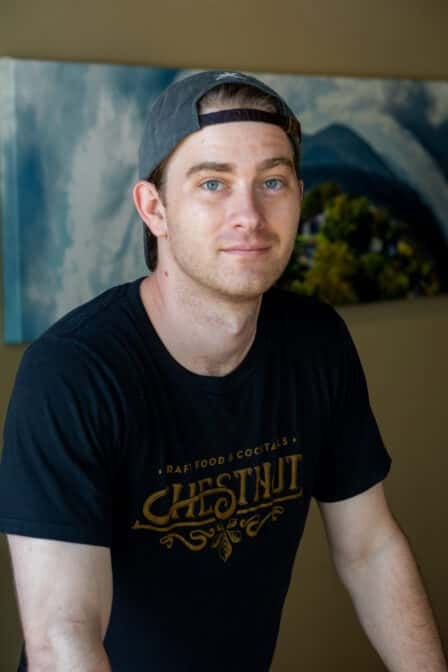 Chef de cuisine Matthew Dorough has been with Chestnut since the very beginning of his culinary career. He has proven himself and worked up through the ranks to get where he is today! Read on to find out a little more about Matt.
How long have you worked for Chestnut and what's your current position?
I started here as an A-B Tech Culinary Intern in the summer of 2017. This was my first ever kitchen job, and I'm ultimately glad I chose it! I decided to continue working as a line cook here after the internship was over, until my wife and I took a brief hiatus in 2018 to go backpacking through Europe. I came back in spring 2019 and am currently Chef de Cuisine.
What is your favorite thing you've eaten OR made at Chestnut?
So many great things! My consistent favorite is the Seafood Simmer, it's a Cioppino style seafood dish we do on occasion. I also love the Pork Schnitzel that has become a staple October menu item.
What lessons has working in the service industry taught you?
Professionalism, empathy, humility and teamwork are the biggest ones. You come to learn quickly that you're only as strong as your weakest link. We have a great team in our kitchen and try our best to build each other up.
What is your biggest passion outside the restaurant?
I like to be outdoors when I can. I've recently taken up fly fishing, so I try and go as much as my wife allows
What got you started as a chef?
I've always liked to cook, even in college I'd prepare crazy meals for my roommates all the time. My wife convinced me to go to culinary school and pursue my passion as a career, so we ended up here in Asheville so I could attend A-B Tech.
Where do you find inspiration for your food
The main ways I find inspiration are from cookbooks and just staying on trend with what's in season locally. I also like to refer to past traveling experiences and my cajun background.
If you could travel to any place in the world for a food experience, where would you go and what would you want to try?
I'd probably go back to Copenhagen, Denmark. I've always been a fan of the restaurant Noma, and would try anything they put in front of me!